POR Tiscar Lara 29/03/09 // Español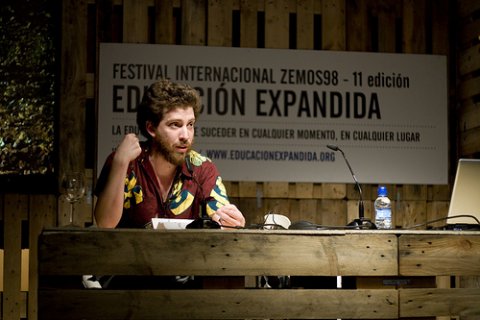 Oppression: "The power relationship between social groups and not between individuals." Without next-generation multimedia presentations or jokes perfectly fit among the slides. Julian Boal does not need artifices to talk with the oldest audiovisual tools: the voice and the gesture. The same as at the Theater of the Oppressed, the work started by his father in the 70's and the work that Julian is conducting this week at the Workshop in the UNIA.
The exhibition of Julian is as brilliant and passionated as expected for a personal project that becomes a life project. Everything comes arround to make clear the complex idea of what is oppression today and how to understand the Theater of the Oppressed as a political project. In a way, to Julian, this concept has been perverted from within capitalism, always smart to learn from their own criticism, when used in business as a technique of group dynamics and the so-called "role playing". Nothing to do with its essence as a method to overcome social inequalities and seek collective solutions. For Boal, Education itself represents these contradictions, it should teach to enhance freedom but ends by using banking models in terms of Paulo Freire, and reproducing social relations that are not analised from a political point of view.
Comentarios //
Todavía no hay ningún comentario.