Masaru Emoto y sus teorías
By
Chiu Longina
• Mar 10th, 2008 • Category:
VIDEO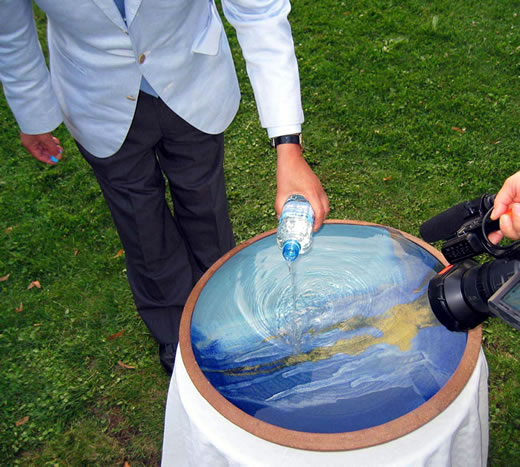 Masaru Emoto nació en Yokohama (Japón) y aunque en principio estudió Arte y Comunicación Internacional se interesó pronto por el estudio del agua. Hoy tiene 60 años, edita sus propias páginas informativas sobre el agua y es un experto mundialmente reconocido en el campo de la investigación sobre ella. En Japón ya ha editado 12 libros sobre el tema, el último de los cuales lleva por título Mensajes del agua e incluye cientos de fotografías de moléculas de agua congelada.Recientemente ha fundado en Suiza el Welt Institute for Subtile Energien (Instituto Mundial para las Energías Sutiles) al que pertenecen numerosos médicos y científicos de prestigio internacional. Entre sus próximos proyectos está crear institutos de investigación sobre el agua en Holanda y en la localidad suiza de Thun.
VER VIDEO DE LAS TEORÍAS DE EMOTO
.
.
CONTRADICCIONES
LOS SUPERDOTADOS PREFIEREN EL METAL EXTREMO
Lisa Simpson tiene un tatuaje de Slayer
No es el jazz clásico la música favorita de los superdotados en el Reino Unido. Lo son el thrash y el death metal. Ya sólo me falta haber sido superdotado para que mi adolescencia tuviese sentido.
En el artículo de The Independent el titular es "How death metal is the soundtrack of child prodigies" y dice:
A study has revealed that death metal and thrash bands such as Slayer and Slipknot produce the music of choice for today's brightest youngsters.
****************************
Metaleiros são mais inteligentes
Segundo uma pesquisa feita com 1057 estudantes ingleses, os fãs de heavy metal estavam entre os mais inteligentes. Os pesquisadores dizem que "as pessoas dotadas sentem mais pressão social e usam a música para extravasar".
Então meus amigos, se vocês curtem metal, aproveitem o clip que escolhi especialmente para vocês. E se alguém ai não curte metal, mas quer ser um gênio mesmo assim, ouça o clip e vá se acostumando 😉
http://terramel.wordpress.com/
****************************
HOW DEATH METAL IS THE SOUNDTRACK OF CHILD PRODIGIES
By Jonathan Brown
Published: 21 March 2007
Heavy metal has long been saddled with a reputation for attracting admirers more interested in decibels than Descartes. New research, however, promises to rescue the genre from the mosh pit of intellectual obscurity.
A study has revealed that death metal and thrash bands such as Slayer and Slipknot produce the music of choice for today's brightest youngsters.
A survey which was carried out among students at the National Academy for Gifted and Talented Youth, a cohort drawn from the top 5 per cent of the nation's youngsters, drew praise for metal's "visceral brutality" with more than a third rating it among their favourite styles. Researchers admitted they were surprised to find that "intelligent" genres traditionally associated with the precociously bright, such as classical and jazz, were the least popular.
What they discovered instead was that youngsters liked to let off steam to hardcore sounds, particularly if it had an emotionally charged or overtly political message behind it. One respondent said: "You can't really jump your anger into the floor and listen to music at the same time with other types of music."
Stuart Cadwallader of the University of Warwick, which conducted the survey, said heavy metal was found to provide a form of "catharsis", particularly for those with low self-esteem.
*********************
A LAS PLANTAS LES VA EL MÉTAL
15 de Noviembre de 2005 – 05:14 PM | Acordes
El otro día vi el final de un episodio de Mythbusters, un programa de Discovery Channel en el que se encargan de, con un poco de ciencia, testar algunos mitos.
Según pude entender (ya digo que llegué al canal al final del programa) en el episodio querían comprobar aquello de que hablar a las plantas es bueno para su crecimiento así que pusieron 5 invernaderos con (creo) semillas recién plantadas. Uno de los invernaderos en total silencio y los otros cuatro con:
* Heavy Metal
* Música Clásica
* Una grabación con palabras cariñosas
* Insultos
Ganó el Heavy Metal! \m/ Digo yo que si es bueno para mis plantas, será bueno para mi cabeza, ¿no?
Eso sí, luego de aquello, al Bonsai que tengo en el salón, ni pizca de Metallica, que se me deforma.
A ver si el Rock in Rio lo mudan en Brasil un poco más al norte, y así salvamos el amazonas a punta de Iron Maiden y Slayer.
**********************
VER VIDEO MYTHBUSTER Y CANTAR A LAS PLANTAS
.
.
.
Chiu Longina is
Email this author | All posts by Chiu Longina