Sonic Devestator (riot control)
By
Chiu Longina
• Mar 11th, 2008 • Category:
DISPOSITIVOS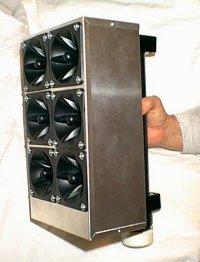 http://www.futurehorizons.net/sonic.htm
Handheld device creates an invisible ultrasonic force field of high powered sound waves capable of inducing intense pain and discomfort in any attacker. This high power model uses an array of 6 ultrasonic transducers for 6 times more sound intensity compared to our standard model! This unit also has its own on board microcontroller to allow for frequency variation, sweep, sweep rate and sweep distance. This allows the device to be user selectable for maximum effect for varying uses. Runs on (8) AA batteries. Effective up to 30 Ft.
Chiu Longina is
Email this author | All posts by Chiu Longina