POR Tiscar Lara 29/03/09 // Español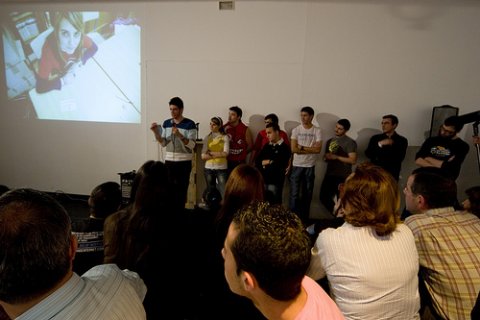 "Sometimes, you do not know that you know something or that you can learn it"
"We could get to know a lot of people, people who were in our own school, people we met every day... "
"We feel that we are part of something"
"This has been great, I liked"
"Let´s make a mini-zemos, meet once a week and go on with this idea"
These are the voices of the students of the Instituto IES Antonio Domínguez Ortiz (Polígono Sur, Sevilla) who participated in the workshop of Bank of Common Knowledge organized by Platoniq at the Expanded Education Symposium Zemos98.
These are the same students who had presented the experience at the Symposium, making very clear that, as his teacher Juanjo said, "there is a huge an very serious question we are making to School institutions.. a question that discusses that old myth that students do not want to learn anything...".
So with "such a simple analog technology" as color post-it are but based on the P2P digital culture, the students spent a week showing and proving that there are many things they want to learn but also many others they can teach to each other. From mathematical explanations to martial arts, any knowledge is worth sharing to strengthen social bonds. It is perhaps the most interesting lesson from creating a BBC: the community building. What is taught or learnt in particular is not the main point... but the act of communicating, sharing and interaction that happens when something it is taught and learned.
Comentarios //
Todavía no hay ningún comentario.