POR Tiscar Lara 29/03/09 // Español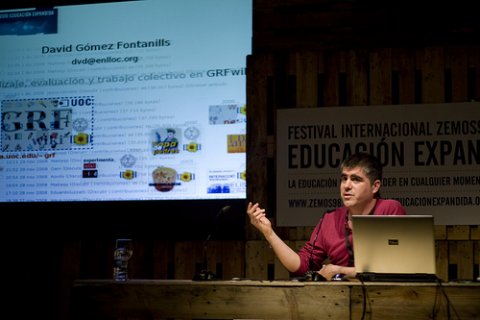 Using wikis in regular education programs is quite difficult because the philosophy of this technology, open and collaborative, often clashes with the rigid versus traditional systems of assessment -with quantitative and individual work-. Complex but not impossible. There are always people who researches and implements new ways to expand those limits. David Gomez is one of those people. He has been working for a long time with wikis and since two years ago he is also taking the adventure of bringing this work to a course at the UOC, and whose experience has shared in the Symposium.
The key to the success of the project is to combine different systems of evaluation and to facilitate the introduction of information in wikis through forms with semantic structure.
Combined assessment formula: History page + rating of results + contributions of each user
This system also allows to work in some symmetry between the tools that are available to teachers and the same available to students, because all instruments of evaluation and correction are visible for both groups. In this way, students can also take a look at the page history and see how their peers' contributions are doing to value the work through the process.
Presentation of the project by David Gómez in audio

Comentarios //
Todavía no hay ningún comentario.